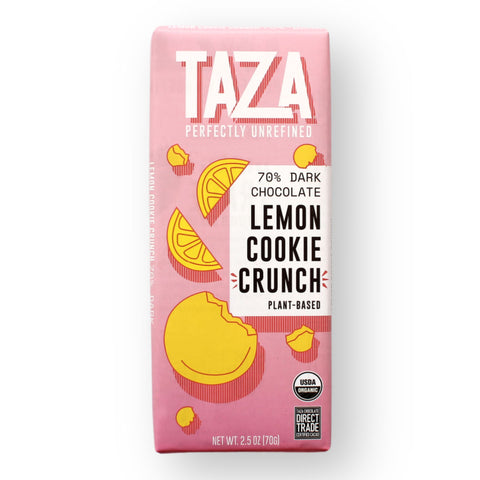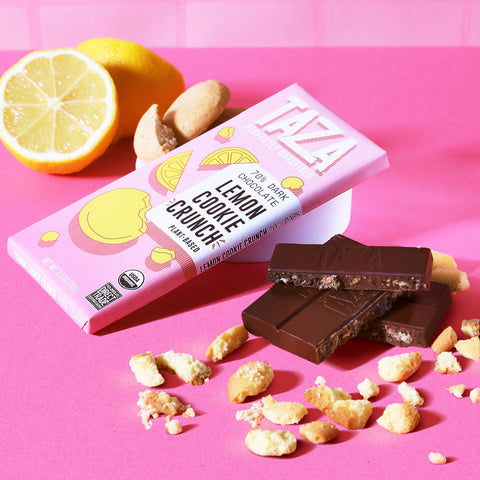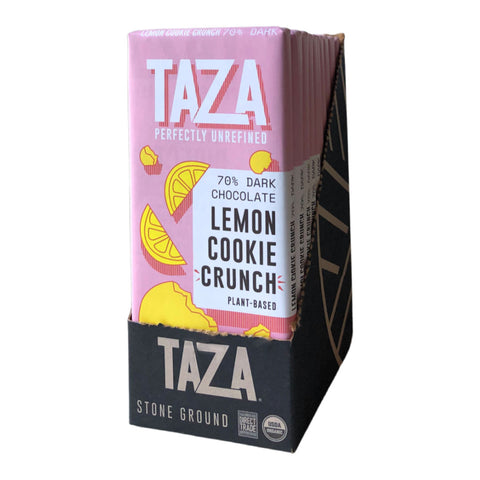 Lemon Cookie Crunch
Irresistibly smooth 70% dark chocolate packed with LOTS of crunchy lemon cookies and a burst of lemon flavor!
DETAILS
70% 2.5 oz Dark Chocolate Bar. Ingredients:
Ingredients: Cacao Beans*, Cane Sugar*, Lemon Cookies* (Gluten Free Whole Oat Flour*, Cane Sugar*, High Oleic Safflower Oil*, Pear Juice from Concentrate*, Tapioca Starch*, Lemon Juice from Concentrate*, Lemon Extract*, Salt, Pure Vanilla Extract*, Cream of Tartar, Baking Soda (Sodium Bicarbonate), Sunflower Lecithin*, Xanthan Gum, Rosemary Extract*), Cocoa Butter*, Lemon Flavor Oil* (Sunflower Oil* and Natural Flavors), Sunflower Lecithin*. *Organic Ingredient  May contain traces of tree nuts and sesame seeds.
CERTIFICATIONS
This product is certified USDA Organic, Direct Trade Certified, Non-GMO, Certified Gluten Free, and Kosher Pareve. It is also dairy free, soy free, and vegan.
Free Shipping!
Get FREE SHIPPING on orders $49+! (Total order price must be over $49 AFTER any discounts or rewards points are applied.) Contiguous US states only.