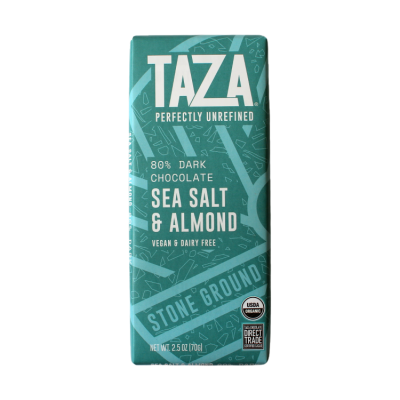 Sea Salt & Almond
Perfectly unrefined 80% dark stone ground organic chocolate with a crave-worthy combo of fresh roasted almonds and a sprinkle of sea salt. Amaze Bars take stone ground chocolate to another dimension by pairing incredible flavor experiences with our minimally processed, bold dark chocolate.
DETAILS
80% 2.5 oz Dark Chocolate Bar. Organic cacao beans, organic cane sugar, organic almonds, organic cocoa butter, sea salt. Contains almonds. May contain traces of other tree nuts and sesame seeds.
CERTIFICATIONS
This product is certified USDA Organic, Direct Trade Certified, Non-GMO, Certified Gluten Free, and Kosher Pareve. It is also dairy free, soy free, and vegan.
Free Shipping!
Get FREE SHIPPING on orders $49+! (Total order price must be over $49 AFTER any discounts are applied.) Contiguous US states only.