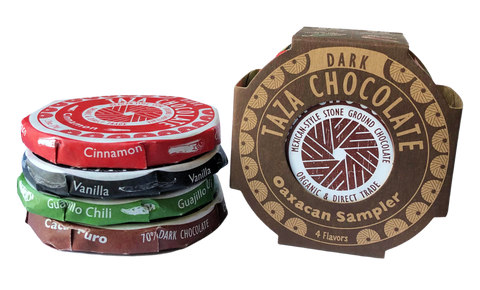 Oaxacan Sampler
Four traditional Oaxacan-inspired flavors of our perfectly unrefined Mexican-style Chocolate Discs are tucked into a unique cut-out gift box. Sample and share stone ground chocolate with true grit!
DETAILS
Contains 4 x 1.35 oz Chocolate Discs: Guajillo Chili, Cacao Puro, Cinnamon, and Vanilla. 
Ingredients: Organic cacao beans, organic cane sugar, organic vanilla bean, organic cinnamon, organic ground chili, organic cayenne pepper.  May contain traces of tree nuts and sesame seeds.
CERTIFICATIONS
This product is certified USDA Organic, Direct Trade Certified, Non-GMO, Certified Gluten Free, and Kosher Pareve. It is also dairy free, soy free, and vegan.
Free Shipping!
Get FREE SHIPPING on orders $49+! (Total order price must be over $49 AFTER any discounts or rewards points are applied.) Contiguous US states only.