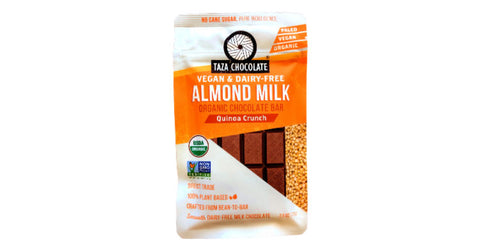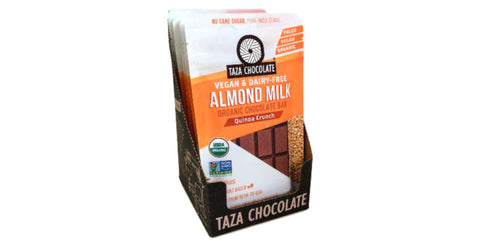 Almond Milk Quinoa Crunch
Live the dream: delicious decadence with NO dairy and NO cane sugar. Taza's 100% plant-based Almond Milk Chocolate will change the way you think about chocolate indulgence. We grind Direct Trade cacao with coconut sugar and almondy goodness to deliver the smooth creamy texture of milk chocolate, but with our uniquely bold stone ground flavor! Crispy puffed quinoa adds a subtly satisfying crunch. Re-sealable pouch is a game changer!
DETAILS
47% Cacao 2.5 oz. Chocolate Bar. Ingredients: Organic coconut sugar, organic cocoa butter, organic cacao beans, organic blanched almond flour, organic puffed quinoa, organic sunflower lecithin and sea salt. Contains almonds and coconut. May contain traces of other tree nuts and sesame seeds.
CERTIFICATIONS
This product is certified USDA Organic, Direct Trade Certified, Non-GMO, Certified Gluten Free, and Kosher Pareve. It is also dairy free, soy free, and vegan.
Free Shipping!
Get FREE SHIPPING on orders $49+! (Total order price must be over $49 AFTER any discounts are applied.) Contiguous US states only.