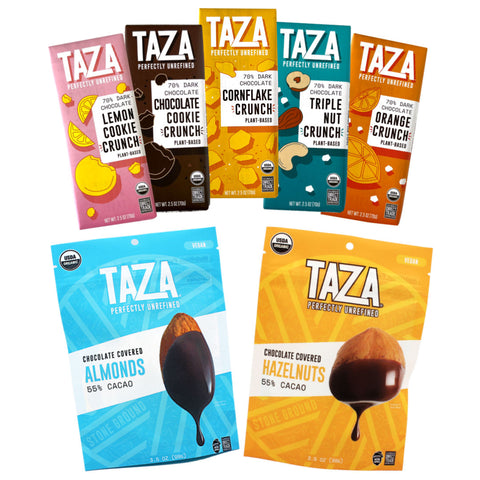 Smooth & Crunchy Gift Box
Treat your favorite chocolate lovers to our Smooth & Crunchy Gift Box, full of irresistibly smooth 70% dark chocolate bars with lots of fun, crunchy mix-ins! Tucked inside are one bar each of Orange Crunch, Chocolate Cookie Crunch, Lemon Cookie Crunch, Triple Nut Crunch and Cornflake Crunch. Plus, one pouch each of Chocolate Covered Almonds and Chocolate Covered Hazelnuts!
CERTIFICATIONS
This product is certified USDA Organic, Direct Trade Certified, Non-GMO, Certified Gluten Free, and Kosher. It is also dairy free, soy free, and vegan.
Free Shipping!
Get FREE SHIPPING on orders $49+! (Total order price must be over $49 AFTER any discounts or rewards points are applied.) Contiguous US states only.